A week after a dove — dyed pink from head to claw — was found on the streets of New York City and brought to a local bird-rescue organization for medical treatment, the bird has died, largely from toxic paint-fume inhalation.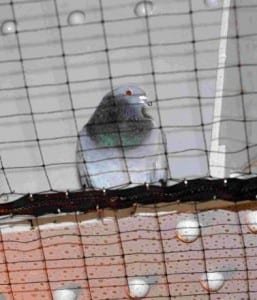 "We are deeply sad to report that Flamingo, our sweet pink pigeon, has passed away," announced the Wild Bird Fund on Facebook and Instagram regarding the domestic king pigeon breed. "Despite our best efforts to reduce the fumes coming off the dye, while keeping him calm and stable, he died in the night. We believe his death was caused by inhaling the toxins."
The loss of the pigeon made headlines around the world, and the organization took the opportunity to speak on the evils of dove releases, noting, "Domestic birds — birds raised in captivity — should never be released to the wild. They will die of starvation or predation … 'Dove releases' sound romantic, but take away the decorations and Instagram photos, and they are the equivalent of dumping your helpless pets on the side of the road. This is no way to celebrate anything."
The situation also reignited discussion of so-called gender-reveal celebrations, as that's been the theory behind the bird being dyed pink and released.
"It has to be a gender reveal," noted one of many commenters in one of several posts from the Wild Bird Fund (which did not respond to Yahoo Life's request for comment but told a local ABC affiliate the same). "I had the same horrifying thought," responded another commenter, with others adding, "Gender reveals are so dumb," "Stupid freaking gender reveals" and "I will never understand the lengths straight people go to for gender reveals."
What they're referring to is the tradition of announcing the expected baby's sex anatomy — not gender, incidentally, which refers to the expression of social constructs of boys and girls or women and men, and therefore not something that could be known in utero. This is often done through elaborate, made-for-Instagram displays of pink or blue, in the form of colored smoke bombs, glitter explosions and even fireworks. Or, in the likely case of Flamingo — as well as a bright blue dove that was given aid by the Connecticut-based Animal Nation rescue in 2021 — dyed birds.
"We had one that came in last year dyed blue and unfortunately didn't make it either. Such a horrible industry for these innocent animals," noted the rescue in an Instagram comment below the post about Flamingo. On its own post about the blue bird, Animal Nation said, "We've heard of pigeons and doves being dyed for gender-reveal parties or simply a 'wow' factor — and to have one come in like this broke our hearts. When a bird is dyed and gets wet, the water is absorbed into the dye making their feathers less water repellent which takes away their number one defense — their ability to fly."
Bottom line, say many, holding sex-reveal parties is a practice that has got to go — for both environmental and gender-stereotyping reasons.
"I think there are a lot of points to keep in mind, things like how plastic confetti and glitter and balloon bits all contribute to plastic pollutions … sequins are all made of plastic, glitter is a microplastic, which NOAA has acknowledged can be part of marine debris," Elizabeth Brandt, national field manager for Moms Clean Air Force, a nonprofit of mothers campaigning against air pollution, tells Yahoo Life. (NOAA is the National Oceanic and Atmospheric Administration.)
"You just have to keep in mind that it's exciting to watch a balloon go up in the air but not if it comes back down in a pond, and if a bird eats it. That's not what you had in mind with your celebration," she adds. "People also don't always consider that plastic is made up of fossil fuels, and their production facilities, for those who live next to them, have health impacts." Smoke bombs can also wreak havoc, depending on what they are made of; those with potassium chlorate release toxins into the atmosphere.
Recent examples of environmental hazards from these celebrations have included California's El Dorado Wildfire, started by such a party's pyrotechnic display gone awry; a similar wildfire in Arizona, the Sawmill Fire, caused by a massive blue smoke bomb and resulting in $8 million in damage; a Tannerite explosion in New Hampshire so strong it cracked a house's foundation and turned the area's tap water brown; a Miami helicopter flyover shooting blue confetti into the ocean, prompting an environmental group to call it out for "illegal dumping" and the pollution of an entire river in Brazil after one couple had the bright idea of dyeing a waterfall blue — in the midst of a local drought, no less.
"So many ways to do a gender-reveal party and they chose just the one that has an environmental impact," Brazilian forestry engineer Vanessa Costa said in a tweet translated by the Washington Post at the time.
Regarding fireworks, Brandt says, "Nobody wants to start their journey in parenthood with starting a forest fire, but that's happened; the parents were charged with multiple crimes in the El Dorado fire. … Is this really what you want to be remembered for? Is this the sort of stress you want when you are bringing another form of stress in already by becoming a parent?"
These reveal parties, she notes, "are meant as celebrations as this new era of life … and we can honor that people are excited about having a baby … [without] knowing glitter that went on to pollute the environment." After all, she adds, "our children inherit these problems. And that's very motivating me."
There have even been reveal-party deaths, including those of two people related to a stunt involving flying a plane in Cancun and that of a party guest in Tennessee, where a piece of shrapnel instantly killed a woman after the parents-to-be inadvertently built a pipe bomb to explode their colored smoke. And, of course, the death of Flamingo.
"A reminder: never dye a bird!" noted the Wild Bird Fund in a post before the one announcing the bird's death. "And please never release domestic birds or other domestic animals to the wild. They have no survival instincts and will starve or be preyed on. Dove releases in all forms are cruel. Please celebrate your life events peacefully without harming others."
Pigeon Patrol Products & Services is the leading manufacturer and distributor or bird deterrent (control) products in Canada. Pigeon Patrol products have solved pest bird problems in industrial, commercial, and residential settings since 2000, by using safe and humane bird 
deterrents with only bird and animal friendly solutions. At Pigeon Patrol, we manufacture and offer a variety of bird deterrents, ranging from Ultra-flex Bird Spikes with UV protection, Bird Netting, 4-S Bird Gel and the best Ultrasonic and audible sound devices on the market today.
Voted Best Canadian wholesaler for Bird Deterrent products ten years in a row. 

Contact us at 1 877-4-NO-BIRD,(604) 585-9279 or visit our website at www.pigeonpatrol.ca

Pigeon/Pigeon Patrol / Pigeons Roosing / Vancouver Pigeon Control / Bird Spikes / Bird Control / Bird Deterrent / PIgeon Deterrent / Surrey Pigeon Control / Pest / Seagull deterrent / Vancouver Pigeon Blog / Birds Inside Home / Pigeons in the cities / Ice Pigeons / What to do about pigeons / sparrows, Damage by Sparrows, How to Keep Raccoons Away, Why Are Raccoons Considered Pests / De-fence / Pigeon Nesting / Bird Droppings / Pigeon Dropping / woodpecker control / Professional Bird Control Company / Keep The Birds Away / Birds/rats/seagull/pigeon/woodpecker/dove/sparrow/pidgeon control/pidgeon problem/pidgeon control/flying rats/pigeon problems/ bird netting/bird gel/bird spray/bird nails/bird guard