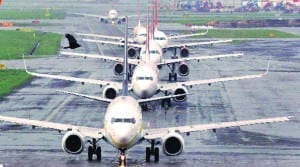 Despite measures in place at the Chhatrapati Shivaji International Airport to keep birds away, bird strikes have gone up over the years, shows data. In 2014, around 67 suspected bird strikes at the Mumbai airport were reported to the Directorate General of Civil Aviation (DGCA), up from 49 suspected bird strikes in 2013.
The growing number forced the Mumbai International Airport Pvt Ltd (MIAL) to purchase an avian-deterrent variety of grass recently to plant near the runway on a trial basis.
Pariah kites, pigeons, common myna, egrets and crows are some of the birds involved in bird strikes at the airport, according to MIAL.
When an aircraft makes the final approach towards the airport, these birds are likely to hit the aircraft.
Avian-deterent Ryegrass, purchased by MIAL, has natural fungus in the form of endophyte, which produces chemicals that deter insect growth. According to the Association of Private Airport Operators, while bird strikes lead to losses of over Rs 20 crore annually to the Indian aviation industry, they are also a serious threat to passenger safety.
"A 30-lbs goose striking the windscreen of a plane flying at 200 knots (in circuit speed) creates a relative impact of 20 tonne, which could cause serious damage to aircraft and pose a risk to the lives of passengers. The civic authorities never pay attention to environmental issues when it comes to airline operations," said Captain Mohan Ranganathan, an aviation safety expert.
There are approximately 250 slaughterhouses near the airport, which attract birds in the area, besides the garbage 'hill' at the Deonar dumping ground that lies in the approach funnel of the Mumbai airport.
"Besides the Deonar garbage hill attracting birds, flowing near the airport is the filthy Mithi river. Further, within the airport, there are open drains, making it a haven for birds," said Dr Satish Pande, director of Ela Foundation, an NGO. MIAL has asked the NGO to conduct a survey to understand the behaviour of birds in the 10-km radius of the airport (risk zone), and suggest solutions to avoid bird strikes.
"There is also a small bat colony in front of terminal 1-B and these bats leave their roost at night. We have proposed trimming of trees to dissuade such colonies after taking all necessary permission," said Pande, whose report will be submitted to MIAL this month.
Besides bursting crackers, MIAL uses launchers and cartridges that cause an exploding and whistling sound, and vehicle mounted scarecrow during the day. At night, laser bird repellent torches are used to scare birds during poor visibility.
About Pigeon Patrol:
Pigeon Patrol Products & Services is the leading manufacturer and distributor of bird deterrent (control) products in Canada. Pigeon Patrol products have solved pest bird problems in industrial, commercial, and residential settings since 2000, by using safe and humane bird deterrents with only bird and animal friendly solutions. At Pigeon Patrol, we manufacture and offer a variety of bird deterrents, ranging from Ultra-flex Bird Spikes with UV protection, Bird Netting, 4-S Gel and the best Ultrasonic and audible sound devices on the market today.
Voted Best Canadian wholesaler for Bird Deterrent products four years in a row.
Contact Info: 1- 877– 4– NO-BIRD (www.pigeonpatrol.ca)