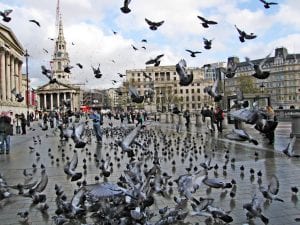 Suggesting that they could have been meant for terror activities in J&K, the state government has withheld the release of more than 150 pigeons, despite orders from a local court here.The pigeons, being transported in a vehicle from Amritsar to Anantnag, were seized by police on October 5.
The pigeons, which were tightly squeezed into cartons, were handed over to SAVE, an NGO working with the Society for Prevention of Cruelty towards Animals. On October 8, a local court imposed a fine of Rs 150 on the men transporting the birds under provisions of Prevention of Cruelty to Animals Act and ordered the release of the birds.
But District Magistrate, Jammu, Simrandeep Singh, in a written order dated October 11, stopped the release of the pigeons, saying, "I consider it a case of apprehended danger which should necessarily be put through a preliminary investigation by the agencies."
Referring to the caution sounded by the IAF regarding the use of such non-conventional methods by hostile agencies to cause disturbances, he further wrote, "There could be a possibility of these pigeons being used for facilitating insurgency by means of exchange of messages or by using some hidden devices in their feet."
"This presumption is being made due to their having different body colours, identification marks and different coloured rings on the feet," he added.
Accordingly, he using the powers vested in him under Section 144 of the CrPC and ordered SAVE not to hand over the birds to the accused until a preliminary enquiry is conducted into the matter. Pointing out that the order will remain in force for 20 days, he said the release order shall be issued by him only after receiving clearance from SSP CID CI.
A senior police officer said that matter was under investigation. The accused have, however, left for the Valley.
SAVE chairperson Rumpy Madan said the suspicion arouse as a large number of birds were tightly stuffed into cartons using wires, safety pins and other objects, without any ventilation, water and feed.
About Pigeon Patrol:
Pigeon Patrol Products & Services is the leading manufacturer and distributor of bird deterrent (control) products in Canada. Pigeon Patrol products have solved pest bird problems in industrial, commercial, and residential settings since 2000, by using safe and humane bird deterrents with only bird and animal friendly solutions. At Pigeon Patrol, we manufacture and offer a variety of bird deterrents, ranging from Ultra-flex Bird Spikes with UV protection, Bird Netting, 4-S Gel and the best Ultrasonic and audible sound devices on the market today.
Voted Best Canadian wholesaler for Bird Deterrent products four years in a row.
Contact Info: 1- 877– 4– NO-BIRD (www.pigeonpatrol.ca)