A study on a population of pigeons on the University of South Africa's Muckleneuk campus was conducted over 2 years. Counts were conducted during a baseline year (March 2013–February 2014) to establish the pigeon population index inhabiting the campus buildings, and again in the management year (August 2014–August 2015) once Eagle Eyes™, Fire (Flash) Flags, bird spikes and a combination thereof were implemented on the buildings. An efficacy reduction percentage was determined for each of the control structures. The total pigeon index on the campus declined by 50 % once the control structures were implemented. Control structures; however, differed markedly in efficacy from each other. Whilst bird spikes indicated the highest efficacy at reducing the pigeon population index, seasonality also influenced the efficacy of the control structure. Quantified understanding of the efficacy of pigeon control measures allows urban management to make informed decisions about reducing pigeon populations.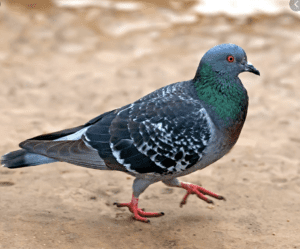 Pigeon Patrol Products & Services is the leading manufacturer and distributor of bird deterrent (control) products in Canada. Pigeon Patrol products have solved pest bird problems in industrial, commercial, and residential settings since 2000, by using safe and humane bird deterrents with only bird and animal friendly solutions. At Pigeon Patrol, we manufacture and offer a variety of bird deterrents, ranging from Ultra-flex Bird Spikes with UV protection, Bird Netting, 4-S Bird Gel and the best Ultrasonic and audible sound devices on the market today.
Voted Best Canadian wholesaler for Bird Deterrent products ten years in a row.
Contact us at 1- 877– 4– NO-BIRD, (604) 585-9279 or visit our website at www.pigeonpatrol.ca
Pigeon/Pigeon Patrol / Pigeons Roosting / Vancouver Pigeon Control /Bird Spikes / Bird Control / Bird Deterrent / Pigeon Deterrent?  Surrey Pigeon Control / Pest /Seagull deterrent / Vancouver Pigeon Blog / Birds Inside Home / Pigeons in the cities / Ice Pigeons/ What to do about pigeons/ sparrows , Damage by Sparrows, How To Keep Raccoons Away,  Why Are Raccoons Considered Pests/ De-fence / Pigeon Nesting/ Bird Droppings / Pigeon Dropping/ woodpecker control/ Professional Bird Control Company/ Keep The Birds Away/ Birds/rats/ seagull/pigeon/woodpecker/ dove/sparrow/pidgeon control/pidgeon problem/ pidgeon control/flying rats/ pigeon Problems/ bird netting/bird gel/bird spray/bird nails/ bird guard