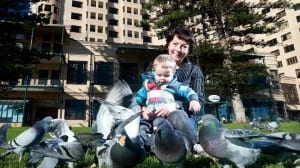 Pigeon Patrol feels for these tourists with the Pigeons in plague-like proportions causing them headaches.
The birds are getting so daring they are stealing food from cafe tables while diners eat. The situation is so bad the Glenelg flock has begun to attract natural predators, with a family of falcons now nesting in a hotel's roof area, feeding on the pigeons.More than six months has passed since traders met with the council to raise concerns about hundreds of pigeons causing a menace in and around the tourist hotspot.
"If it was a rat problem you'd expect the council to take control," Mr Higgins said."These are the rats of the sky. "As an operator in the area you expect the local council to take some ownership and give some direction, but we haven't had any clear direction since the meeting.
The Stamford Grand has spent thousands of dollars trying to manage pigeons pooing by its pool, including $18,000 to install nets and spikes last year.
Mr Higgins was concerned the issue was affecting the hotel's international reputation, as reviews on travel websites had mentioned the pigeon problems. "It's a worldwide negative impact for us," he said. "They poop all over the chairs and tables and you're constantly having to clean all that up … if they can move them on it would be fantastic."
Holdfast Bay chief executive Justin Lynch last month said the council had contacted the Environment Department to "explore the lawfulness of various pigeon control methods", and had received quotes from a contractor recommended by the department.
The council traps and releases pigeons roosting on its buildings, which are also fitted with nets, spikes and wires.
It would be best not to release these bird but rather install Pigeon Patrols Ultrasonic Impact Repellers to deter the birds!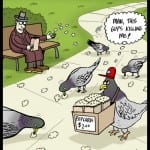 http://www.news.com.au/national/south-australia/glenelg-traders-tourists-are-fed-up-with-problem-of-pigeon-poo-in-mosley-square/story-fnii5yv4-1226802602699