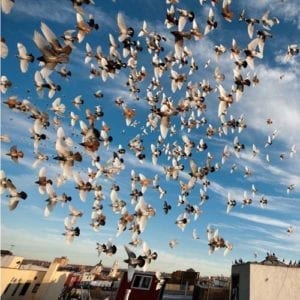 On Saturday, two patients died after contracting a fungal infection linked to pigeon droppings.
While one death was reportedly not a result of contracting Cryptococcus, health chiefs are now looking into the passing of another patient, believed to be a child, as the factors leading to the death are currently unclear.
It was reported on Sunday that the Scottish Government had been aware of the issue since December.
However, a freedom of information request which has been shared with the Evening Times shows complaints relating to pigeons in the ceiling of the super hospital were made as early as January 2017.
Throughout 2017 a total of 12 issues were flagged up relating to the birds in just one department of the building.
In August and September 2017 the problem of pigeon dropping being in close-proximity to patients was shared with environmental staff at NHSGreater Glasgow and Clyde (NHSGGC), with one reporting pigeons roosting and fouling at an ambulance entrance.
NHSGGC declined to comment on the series of 2017 complaints relating to the birds. A spokesman for the health board said: "Like many very large buildings the hospital can at times attract birds.
"We have a number of control measures in place to prevent them gathering and are exploring further options to add to the existing measures."
According to the freedom of information document, written in 2018, pigeon excrement is "periodically brushed away" and areas are power washed as required.
Netting and spikes were also installed at the hospital to prevent pigeons roosting.
However, this is limited in periods when temperatures are low to avoid ice forming.
The document adds: "NHSGGC endeavours always to provide the best experience possible for patients, their relatives, our staff, and other members of the public, in premises which are pleasant, and conducive to good health and recovery.
"The situation with the pigeons is continually monitored by NHSGGC and we are proactive in our efforts to reduce the problem.
"However, we have sought comments from our consultant in public health with special responsibility for environmental concerns who advised us that, in general, the risk for health posed by exposure to these pests is considered to be relatively minor.
"We are aware that this particular issue concerns a hospital and a population of potentially vulnerable patients rather than a residential or commercial premises, but an infestation of this kind would normally be considered as an environmental nuisance rather than a major risk for human health."
In a statement following the deaths an NHSGGC spokesman said: "Our thoughts are with the families at this distressing time.
"These two cases of infection were identified in December and an Incident Management Team was formed. A likely source was identified and dealt with immediately.
"We are unable to comment further on the two cases due to patient confidentiality."
On Friday some patients with compromised immunity, both children and adults, were transferred to other areas of the hospital away from the source of the infection.
The health board have since confirmed that the affected area is "non-public" and the droppings had been removed.
Alongside this, air quality tests have been carried, with filters being installed to monitor this and are said to be working effectively. No other cases have yet been detected.
The infection is caused by inhaling spores of the fungus Cryptococcus, carried in the air, found in the bird's ­droppings. Most infections are mild and produce either no symptoms or a minor influenza – like illness.
However the disease can cause meningitis, high fever, blood abnormalities, pneumonia and even death.
Those experiencing issues with their immune system are the most susceptible to complications, with the infection remaining rare amongst healthy individuals.
About Pigeon Patrol:
Pigeon Patrol Products & Services is the leading manufacturer and distributor of bird deterrent (control) products in Canada. Pigeon Patrol products have solved pest bird problems in industrial, commercial, and residential settings since 2000, by using safe and humane bird deterrents with only bird and animal friendly solutions. At Pigeon Patrol, we manufacture and offer a variety of bird deterrents, ranging from Ultra-flex Bird Spikes with UV protection, Bird Netting, 4-S Gel and the best Ultrasonic and audible sound devices on the market today.
Voted Best Canadian wholesaler for Bird Deterrent products four years in a row.
Contact Info: 1- 877– 4– NO-BIRD (www.pigeonpatrol.ca)