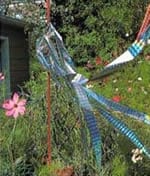 'Irri-tape pigeon scarer' is a bird and pigeon control product that visually scares pigeons and birds by the use of holographic images imprinted onto a polyester film. The images resemble owl's eyes in an interlocking pattern and the 3-dimensional holographic surface reflects the colours of the spectrum as the tape moves. Irri-tape comes in the form of a tape, normally sold in 100 foot or 500 foot rolls, that is ready for use by simply cutting to size. The tape measures 2" wide and .0001" thick. Irri-tape has a considerable number of applications and will scare a variety of bird species including waterfowl and predatory birds.
Irri-tape pigeon scarer is effective, according to the distributor, because it flashes as it moves in the wind with constantly changing colours and patterns. The flashing 'ripple' effect unsettles the target species and is perceived as a danger signal. Viewed from a distance, Irri-tape has a reptilian sheen and as a result may be perceived as a predator by other birds, thereby scaring them. The perceived movement of Irri-tape, courtesy of the holographic images, may even be seen by the target species as a rival for food or territory.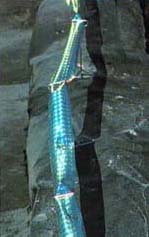 Irri-tape not only scares pest species of birds visually but also by making a metallic rattling sound when caught in the wind. The combination of audio and visual scarers in one product makes Irri-tape pigeon scarer an interesting bird control option.
Irri-tape's applications include protecting ponds, lakes and lawns from waterfowl such as ducks and geese as well as protecting facilities such as fish farms from predation by hawks and other raptors. Irri-tape pigeon scarer can also be wrapped around tree trunks and grape vines to stop bird damage as well as commercial fruit crops and fruit and vegetable plots in domestic gardens. Irri-tape can be applied to flat surfaces such as narrow fences or ledges on buildings to stop birds such as pigeons landing and perching. The product can also be suspended above perching or roosting areas by specially designed wire supports and the main ribbon can be made even more effective by attaching 5 foot long 'streamers'. Irri-tape can also be used to scare birds from pleasure craft moored in marinas and on roof tops to stop birds landing. The distributor even suggests that whole areas can be protected by providing a line of upright posts and 'maypoling' 6-10 foot strips of Irri-tape pigeon scarer to them, allowing the Irri-tape to blow freely in the wind.
Irri-tape pigeon scarer appears to be simple and straightforward to install in virtually every application and the product can be installed by a property ownerrather than having to instruct a specialist contractor. The product is relatively inexpensive to buy and is also lightweight, durable and maintenance-free.
Where urban installations are concerned, access to maintain and repair damaged tape must also be taken into consideration. Birds such as pigeons will often choose inaccessible areas to perch and roost and therefore access to these areas to both install and maintain the product may be difficult and potentially expensive. There are also many more areas on buildings where reflective tape may become 'snagged' on architectural features, for example, than in open-space environments such as gardens and fields. Based on the fact that most urban applications will require the product to be installed at height, the question of how the product will stand up to strong winds and gales must also be considered. If Irri-tape pigeon scarer is installed as a linear application, along a parapet wall for example, the likelihood of the product being damaged as a result of high winds is lessened, but cannot be ruled out.
Irri-tape pigeon scarer is clearly a product that deserves consideration whether it is used for the protection of gardens, crops or buildings. As with a vast majority of bird scarers, however, the product will be considerably more effective when provided as part of an overall control system rather than as a stand-alone device. There are very few products within the pest control marketplace, with the possible exception of anti-roosting spikes, that are 100% effective as a stand-alone deterrent/scarer or anti-perching device.
About Pigeon Patrol:
Pigeon Patrol Products & Services is the leading manufacturer and distributor of bird deterrent (control) products in Canada. Pigeon Patrol products have solved pest bird problems in industrial, commercial, and residential settings since 2000, by using safe and humane bird deterrents with only bird and animal friendly solutions. At Pigeon Patrol, we manufacture and offer a variety of bird deterrents, ranging from Ultra-flex Bird Spikes with UV protection, Bird Netting, 4-S Gel and the best Ultrasonic and audible sound devices on the market today.
Voted Best Canadian wholesaler for Bird Deterrent products four years in a row.
Contact Info: 1- 877– 4– NO-BIRD (www.pigeonpatrol.ca)
The information on this blog is for personal use only. Content for this blog obtained from other websites is not being used for any commercial reasons whatsoever as per the copyright statement on the Pigeon Control Resource Centre's website. http://www.pigeoncontrolresourcecentre.org/ Special thanks for the people and companies that helped gather this information. This information is to be used for reference only.