An NHS worker has said she is completely besotted with her pet pigeon who she adopted after encountering her in a pub beer garden.
Hannah Hall, from Nottingham, filmed the unusual moment the bird – who she has named Penny – approached her at the pub and perched on her shoulder.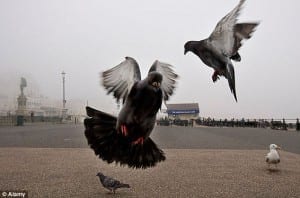 The video has received more than 22m views on TikTok.
Miss Hall said the reaction had been "quite overwhelming".
"This whole experience has been really, really surreal," she said.
She added she had been speaking regularly to a vet about how to care for the bird.
An RSPCA spokesperson said rehabilitating wild birds was best undertaken by somebody with experience.
"Their welfare needs would need to be met in captivity in the same way as for domestic pigeons," he said.
"This includes regularly seeking advice from a vet and allowing them to have free flight in the house."
Pigeon Patrol Products & Services is the leading manufacturer and distributor or bird deterrent (control) products in Canada. Pigeon Patrol products have solved pest bird problems in industrial, commercial, and residential settings since 2000, by using safe and humane bird 
deterrents with only bird and animal friendly solutions. At Pigeon Patrol, we manufacture and offer a variety of bird deterrents, ranging from Ultra-flex Bird Spikes with UV protection, Bird Netting, 4-S Bird Gel and the best Ultrasonic and audible sound devices on the market today.
Voted Best Canadian wholesaler for Bird Deterrent products ten years in a row. 

Contact us at 1 877-4-NO-BIRD,(604) 585-9279 or visit our website at www.pigeonpatrol.ca

Pigeon/Pigeon Patrol / Pigeons Roosing / Vancouver Pigeon Control / Bird Spikes / Bird Control / Bird Deterrent / PIgeon Deterrent / Surrey Pigeon Control / Pest / Seagull deterrent / Vancouver Pigeon Blog / Birds Inside Home / Pigeons in the cities / Ice Pigeons / What to do about pigeons / sparrows, Damage by Sparrows, How to Keep Raccoons Away, Why Are Raccoons Considered Pests / De-fence / Pigeon Nesting / Bird Droppings / Pigeon Dropping / woodpecker control / Professional Bird Control Company / Keep The Birds Away / Birds/rats/seagull/pigeon/woodpecker/dove/sparrow/pidgeon control/pidgeon problem/pidgeon control/flying rats/pigeon problems/ bird netting/bird gel/bird spray/bird nails/bird guard