Last summer, Lana Nechayev's friend told her about a pigeon she had seen struggling in a trap at TransLink's Stadium SkyTrain station in Vancouver. Nechayev wanted to see it for herself, so with the help of a selfie stick attached to a broomstick, Nechayev says she photographed the pigeon later that day.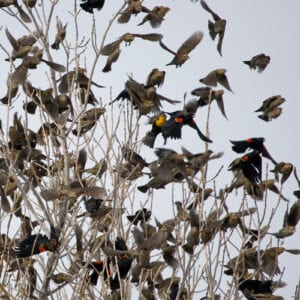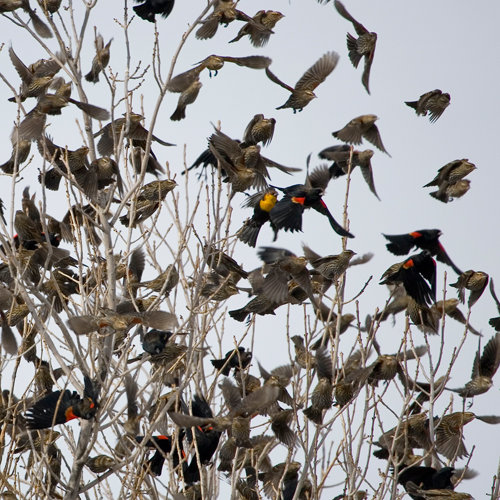 But she says it was already dead.
"It really broke my heart," she said. "They die, slowly. Like, they starve to death. It's a horrible, painful death."
Nechayev is one of about 1,700 people who have signed an online petition calling on TransLink to stop the practice of trapping pigeons at its stations.
"It's barbaric. It's not civilized," she said on Monday.
Nechayev and others reported the issue to the B.C. SPCA, which sent officers repeatedly to check the traps over several weeks. But according to Shawn Eccles, senior manager of cruelty investigations with the B.C. SPCA, the officers never saw a pigeon suffering in the traps during their visits.
Eccles said as long as traps are checked regularly by the pest management contractor, it's legal to trap the birds and humanely kill them. He suggested daily checks may be required to ensure the animals aren't suffering.
Pigeons aren't protected by the B.C. Wildlife Act, the federal migratory bird act, or the province's cruelty to animals laws — unless, Eccles explained, they're captive in a trap, then animal cruelty laws apply. He said the animals need to be provided with enough food and water.
"You don't starve to death an animal. That's not acceptable," said Eccles.
Droppings and interrupted service
TransLink began its trapping program about five years ago, according to spokesperson Thor Diakow.
"Pigeons are a bit of a problem when it comes to droppings," said Diakow. "Pigeons and other wildlife — I'm talking crows, gulls, rats, raccoons, you name it — they can trigger highly sensitive intrusion alarms on the SkyTrain station."
He said last year there were 544 wildlife-triggered intrusion alarms, amounting to 20 to 30 hours of lost service combined, though it's impossible to say how many of the alarms were triggered by pigeons.
Diakow said TransLink was aware of complaints about the handling of the trapped birds last summer — around the time the company was switching between pest control contractors.
"Unfortunately there may have been a couple of instances where there were birds that perished in the cages, and that could have been where these photos and this petition stems from," he said, adding that the contract requires the pest management company, Atlas, to check the traps weekly.
TransLink also uses spikes, netting, and low-voltage shocks to deter pigeons from parts of the SkyTrain system. But, Diakow said, the trap-and-kill program is "an important measure" the company uses to control the pigeon population.
"We do our best to be transparent about it," he said.
Diakow declined to share information from Atlas's weekly reports, which include how many pigeons have been trapped and killed, how many are found to have died in the cages, and which stations have traps. The B.C. SPCA also has access to the weekly reports, but declined to share information due to a confidentiality agreement.
Pigeon Patrol Products & Services is the leading manufacturer and distributor or bird deterrent (control) products in Canada. Pigeon Patrol products have solved pest bird problems in industrial, commercial, and residential settings since 2000, by using safe and humane bird 
deterrents with only bird and animal friendly solutions. At Pigeon Patrol, we manufacture and offer a variety of bird deterrents, ranging from Ultra-flex Bird Spikes with UV protection, Bird Netting, 4-S Bird Gel and the best Ultrasonic and audible sound devices on the market today.
Voted Best Canadian wholesaler for Bird Deterrent products ten years in a row. 

Contact us at 1 877-4-NO-BIRD,(604) 585-9279 or visit our website at www.pigeonpatrol.ca

Pigeon/Pigeon Patrol / Pigeons Roosing / Vancouver Pigeon Control / Bird Spikes / Bird Control / Bird Deterrent / PIgeon Deterrent / Surrey Pigeon Control / Pest / Seagull deterrent / Vancouver Pigeon Blog / Birds Inside Home / Pigeons in the cities / Ice Pigeons / What to do about pigeons / sparrows, Damage by Sparrows, How to Keep Raccoons Away, Why Are Raccoons Considered Pests / De-fence / Pigeon Nesting / Bird Droppings / Pigeon Dropping / woodpecker control / Professional Bird Control Company / Keep The Birds Away / Birds/rats/seagull/pigeon/woodpecker/dove/sparrow/pidgeon control/pidgeon problem/pidgeon control/flying rats/pigeon problems/ bird netting/bird gel/bird spray/bird nails/bird guard