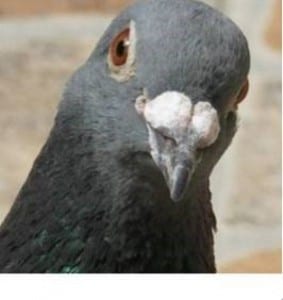 If you ever needed proof that a fine line divides genius from madness and it's often indistinguishable and frequently crossed, the foreign media seems to have found it in abundance in our country. The only thing is I'm not sure which side they're coming down on. Either way the joke is on us.
A report that the police in Punjab have in their custody a pigeon, who they believe came from Pakistan and could be a spy, led to this memorable headline in the Wall Street Journal: "India detains pigeons as authorities fret over risk of a coo."
Agence France-Presse says the pigeon was found carrying a note in Urdu presumably addressed to Prime Minister Narendra Modi. The note reads: "Modi, we are not the same people from 1971.Now each and every child is ready to fight against India." The Huffington Post says the pigeon was found by a 14-year-old boy who took the bird straight to the police station.
The Wall Street Journal has some fascinating details. The paper says that the pigeon has been x-rayed and some unusual spots found on its abdomen. Two further x-rays followed but Rishpal Singh, an assistant sub-inspector, has said "the authorities still aren't sure if there is anything nefarious." Now the army will be consulted.
Rakesh Kaushal, a senior superintendent of police in Punjab, was good enough to explain the seriousness of the situation. He has told the Wall Street Journal: "We thought maybe it's a spy pigeon. We can't establish if it's from Lashkar … it's better to double check …law breakers are always up to new tricks. Who knows?"
Who knows indeed! With such a bird in hand our security forces need to be extremely concerned about the others still in the bush.
Meanwhile, Pakistani social media has named the pigeon Ghutarghoon Khan and they're clearly having a hoot at our expense. But this is not the first time pigeons have caused such consternation.
My niece Narayani tells me Ghutarghoon Khan is the second pigeon in Punjab police custody. The first was apparently caught 10 days earlier and remains in detention. I presume the police are meticulously gathering evidence before they file charges. Last year, a pigeon was discovered with a mysterious number on its feathers. At the time the deputy superintendent of police, Hansraj Hans, told Quartz: "We checked for cyanide under its beak." Garud Sharma, said to be "a top intelligence officer", added "We are also checking for circumcision."
The Guardian, which has obviously done extensive research on this subject, has found a lot more than just avian espionage. The paper claims two balloons were recently found in Punjab with similar messages to the one found on Ghutarghoon Khan. Understandably no one is prepared to dismiss this as a mere case of hot air propulsion. In 2013 Indian security forces found a dead falcon fitted with a small camera. In 2010 a pigeon was detained following fears it could be a spy. Unfortunately, the paper does not relate what happened next. I wonder if it was found guilty. Regrettably, the Geneva Convention does not specify how birds accused of spying should be treated by their captors, but at this time of spiralling tension with distrust of our naughty neighbour at a peak, it would be irresponsible to dismiss such reports as a fowl affair or a story fit for the birds. In the pecking order of threats to national security these jailbirds must not be taken lightly.
About Pigeon Patrol:
Pigeon Patrol Products & Services is the leading manufacturer and distributor of bird deterrent (control) products in Canada. Pigeon Patrol products have solved pest bird problems in industrial, commercial, and residential settings since 2000, by using safe and humane bird deterrents with only bird and animal friendly solutions. At Pigeon Patrol, we manufacture and offer a variety of bird deterrents, ranging from Ultra-flex Bird Spikes with UV protection, Bird Netting, 4-S Gel and the best Ultrasonic and audible sound devices on the market today.
Voted Best Canadian wholesaler for Bird Deterrent products four years in a row.
Contact Info: 1- 877– 4– NO-BIRD (www.pigeonpatrol.ca)