In the span of a few weeks, Erica Richards has been transformed from a vibrant 23-year-old woman who loved nature to a person battling for her life.
The Fredericton woman contracted a potentially fatal condition called cryptococcal meningitis, a fungal disease carried in the feces of pigeons.
The debilitating illness attacks the spine and brain, causing severe swelling. It left her confined to a hospital bed in a state of delirium for weeks.
But the most devastating side effect is that Ms. Richards is now blind.
"Be aware of this disease. It could kill a child in a heartbeat," Ms. Richards said in an interview from her hospital bed.
"It could kill a senior in a heartbeat without you even having to worry about the symptoms. It comes on that fast. If you don't realize the symptoms, it could kill you, too."
Her emotional warning comes on the heels of city council's approval earlier this month of a recommendation that it toughen its animal control bylaw to allow for fines for feeding pigeons. Once the amendment is drafted and declared law, it will give the city's bylaw enforcement officers the power to ticket and fine offenders.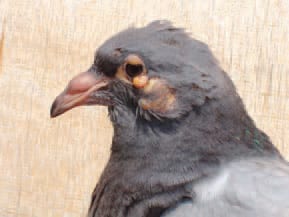 Ms. Richards said she decided to go public about her illness after learning about a recent newspaper story about a problem with pigeon poop in the city.
"Please don't feed the pigeons," she said. "Try to shoo them away if you see them. … It (the disease) is horrible. The pain that you get from this disease is crippling.
"The after-effects are with you for life and you just can't stop thinking about it. I just want other people to know and try to stay away from pigeons."
Oddly enough, Ms. Richards said she has no recollection of ever being anywhere near pigeons.
"I am still wondering to this day where I got it," she said. "I could have stepped in it and brought it into the home. I just don't know."
Ms. Richards said the symptoms started with a migraine headache that wouldn't go away. She was admitted to hospital on Feb. 10 after many days of intense head pain. Shortly after, she went into a coma-like state.
"When I woke up I thought I had a mask over my eyes, but I was wrong. I was blind. I was recently told that I will be blind for the rest of my life. This is a tough thing for a 23-year-old to go through. … My world crumbled around me."
Ms. Richards said the odds of surviving the disease are 50-50.
"However, I managed to make it through," she said, battling tears. "I don't know how but I am still here, and I am glad because I get to warn everyone else of this."
Cristin Muecke, the Health Department's regional medical officer, confirmed the disease is often associated with pigeon droppings. She said the illness can't be spread person to person and is more common with someone who has immune problems.
Ms. Richards, however, said she has never had a problem with her immune system and that's what's so puzzling about contracting the affliction.
"I do not want anyone else to suffer this agonizing disease and I ask anyone who is feeding pigeons to stop," she said. "It's not just a matter of keeping your neighbourhood clean … it's a matter of keeping people healthy."
About Pigeon Patrol:
Pigeon Patrol Products & Services is the leading manufacturer and distributor of bird deterrent (control) products in Canada. Pigeon Patrol products have solved pest bird problems in industrial, commercial, and residential settings since 2000, by using safe and humane bird deterrents with only bird and animal friendly solutions. At Pigeon Patrol, we manufacture and offer a variety of bird deterrents, ranging from Ultra-flex Bird Spikes with UV protection, Bird Netting, 4-S Gel and the best Ultrasonic and audible sound devices on the market today.
Voted Best Canadian wholesaler for Bird Deterrent products four years in a row.           
Contact Info: 1- 877– 4– NO-BIRD (www.pigeonpatrol.ca)