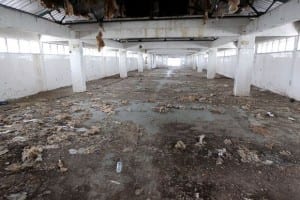 Gyanoday Primary School had shut in 2012 and is now home to two buffaloes.
One can also find pigeons fluttering to a pigeonhole but not students, teachers, desk and blackboards.
Who let the buffaloes in?
The answer is clear in Gopaldhara-Rangbhang valley: successive politicians who ruled the hills but dragged their feet to put in place a proper education system.
The school, 7km from here, was established in 1995 by the Subash Ghisingh-headed Darjeeling Gorkha Hill Council (DGHC).
The school started with no permanent teachers. Four volunteers used to teach the 45-odd students.
"I have a family to support. How long can one carry without salaries?" asked Aswain Thami, a former volunteer teacher.
One of his colleagues joined Gopaldhura tea garden office, while two lady volunteers preferred to be permanent homemakers.
Thami landed a civic police job in 2014.
Local people made submissions to not only Ghisingh but also Bimal Gurung when he was heading the Gorkhaland Territorial Administration.
They have recently taken up the matter with local Gorkha Janmukti Morcha leaders who are now with Binay Tamang, the GTA head. "We have been told that our grievances will be redressed soon," said Suman Yolmo, a managing committee member.
"If at least one permanent teacher is appointed, the school would still be functional," rued Thami.
Primary school teacher's examination was last held in 2001 and the appointment letters were released the following year.
Amar Singh Rai, GTA (education in-charge), admitted that primary and secondary education system was in "a mess" in the hills. "There has to be a proper recruitment system," said Rai.
The School Service Commission has been defunct in the hills since 2003. Ghisingh opposed the commission demanding that its power be transferred to the DGHC.
"There are vacancies of 652 primary teachers now. For some reason, the earlier GTA did not pursue this issue but the state government has asked us to submit rules for appointing the teachers," said Rai.
"The rules have been submitted. Once the matter related to the 652 teachers is taken care of, we will have to put in place a proper system," said Rai.
"The school building has developed cracks and needs repaired," said Yolmo.
Less than 50ft away stands a glittering three-storied "guest house" that was patronised both by Ghisingh and Gurung. The buzz is that Rs 74 lakh was spent on the "guest house".
Till date, no guests have arrived.
It's a solace for the school which has no students.
About Pigeon Patrol:
Pigeon Patrol Products & Services is the leading manufacturer and distributor of bird deterrent (control) products in Canada. Pigeon Patrol products have solved pest bird problems in industrial, commercial, and residential settings since 2000, by using safe and humane bird deterrents with only bird and animal friendly solutions. At Pigeon Patrol, we manufacture and offer a variety of bird deterrents, ranging from Ultra-flex Bird Spikes with UV protection, Bird Netting, 4-S Gel and the best Ultrasonic and audible sound devices on the market today.
Voted Best Canadian wholesaler for Bird Deterrent products four years in a row.
Contact Info: 1- 877– 4– NO-BIRD (www.pigeonpatrol.ca)